Northport Pier Restaurant
Establishment and food at 296 Main Street, Alberton, PE C0B 1B0, Canada. Please contact Northport Pier Restaurant using information below: address, phone, fax, email, opening hours, customer reviews, photos, directions and more.
Opening hours
| | |
| --- | --- |
| Sunday | 04:30pm — 08:30pm |
| Monday | 04:30pm — 08:30pm |
| Tuesday | 04:30pm — 08:30pm |
| Wednesday | 04:30pm — 08:30pm |
| Thursday | 04:30pm — 08:30pm |
| Friday | 04:30pm — 08:30pm |
| Saturday | 04:30pm — 08:30pm |
X
Photos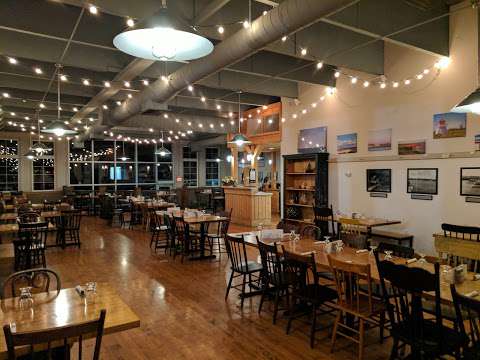 Reviews of Northport Pier Restaurant
Corinda ' s Favs Added 2018-11-03

★ ★ ★ ★ ★

Picturesque view; Mouthwatering food; Desserts to die for!!!!! Just a short stroll away from a comfy Inn and the beautiful boardwalk where you can walk off all the calories! One can't go wrong dining here! LOVE IT AND RETURN OFTEN!

James Sobey Added 2018-10-26

★ ★ ★ ☆ ☆

Portions were great... except the fish cakes. Think 2 croquinole pieces stacked on top of each other. Cheaply made menus and no one to sit you sort of throws off the "fine dining" feel. Like a diner but everything is 5 dollars more expensive.

Neil Ellis Added 2018-10-24

★ ★ ★ ★ ☆

The Northport Pier Restaurant is built in an old shipyard. You can almost imagine the ships being built and then sent out to sea.

The staff were very helpful and welcoming. The menu features a fair amount of sea food, which one would expect. The lobster was excellent as were the scallops. They have a good wine list and feature local craft beers.

The view from the dining area is of a working Pier on one side and tranquil views to the north.

Arvid Added 2018-10-19

★ ★ ★ ☆ ☆

This is based on our dining experience at the restaurant about 7 months ago (Aug 2017). We generously give it 3 stars only because of the beautiful location and view (for which we will probably return on our next visit to PEI). The fish and chips were over deep-fried, and the lettuce in a ceasar salad as well as in a grilled chicken sandwich had this old taste. The thing this, this same thing happened on TWO separate visits to the restaurant - the location, friendly staff and atmosphere merited a second visit. Thus, the problems with food seem to be systemic and my guess is that they are spread throughout the menu. On the good side, the (draft) beer is good, the view is great (especially if you get a window seat, so go on off-peak hours), the menu selection is actually quite good (pub-style food) - so if the management starts paying attention to some relatively minor details in food preparation, this would be a great place to eat.

Karen Milligan Added 2018-09-02

★ ★ ★ ★ ★

Stunning view. Something to please every taste on the menu. Great food and drink selection. Friendly service. Did I say the view is stunning! Summer is not complete without at least one visit.